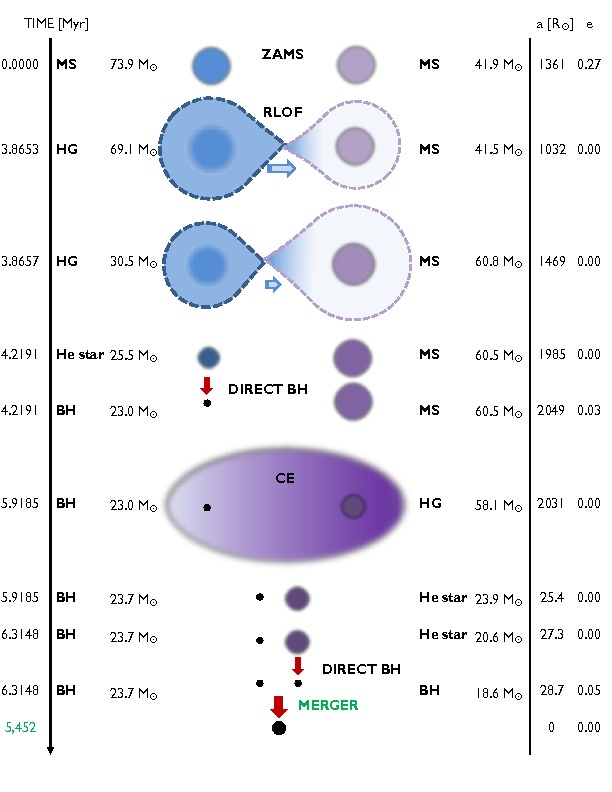 Powyższy rysunek (wykonany przez Wojciecha Gładysza) przedstawia ewolucję
typowego systemu, który emituje silne promieniowanie grawitacyjne w ciągu
swojego życia. Lewa kolumna podaje wiek systemu. W centrum znajduje
się uproszczony rysunek fazy ewolucyjnej ze stanem ewolucyjnym gwiazd i ich
masami (Po lewo dla pierwszej (głównej) gwiazdy, a po prawo dla towarzysza).
Prawa kolumna przedstawia odległość między gwiazdami w jednostkach promienia
Słońca i ekscentryczność, która opisuje eliptyczność orbity (0.00 oznacza orbitę
kołową). Poniżej znajdziecie krótki opis ewolucji przedstawionej na tym rysunku.
Opis ewolucji układu podwójnego prowadzący do koalescencji dwóch czarnych dziur
w ciągu wieku Wszechświata
Ciąg główny wieku zerowego
(początek ciągu głównego; ZAMS) może być postrzegany jako
moment narodzin układu podwójnego. Wtedy gwiazdy zaczynają syntezę helu w swoich
jądrach, a to oznacza początek najdłuższej fazy ewolucyjnej w ich życiu,
tak zwanego
ciągu głównego
(MS). Gwiazda na ciągu głównych świeci niemal
jednostajnie.
Sytuacja zmienia się jednak drastycznie gdy w jądrze zaczyna brakować paliwa
wodorowego. Im cięższa jest gwiazda tym ten moment nadchodzi szybciej. Dla
masywnej pierwszej gwiazdy ciąg główny kończy się po paru milionach lat.
Następnie jądro gwiazdy się kurczy i jednocześnie rozgrzewa. Natomiast wodorowa
otoczka się nadyma i staje się nawet 100 razy większa niż na ciągu głównym! Ta
krótka lecz bardzo dynamiczna faza ewolucji jest nazywana
przerwą
Hertzsprunga
(HG).
W tak olbrzymiej gwieździe jej najbardziej zewnętrzne warstwy przestają
być związane grawitacyjnie z jądrem. Taka materia może zostać przechwycona przez
pole grawitacyjne drugiej gwiazdy i opaść na nią zwiększając jej masę. Taki
przepływ masy jest znany jako wypełnienie powierzchni Roche'a (RLOF). Trwa on zaledwie
kilkaset lat ale jest dość silny by odwrócić stosunek mas, tj. gwiazda główna,
która była prawie dwukrotnie cięższa na początku ciągu głównego, teraz jest
blisko dwa razy lżejsza.
W wyniku przepływu materii gwiazda główna zostaje całkowicie pozbawiona wodorowej
otoczki i staje się gwiazdą helową o masie około 25 razy cięższej od Słońca.
Taka gwiazda, po krótkiej ale drastycznej utracie masy w wietrze gwiazdowym,
tworzy czarną dziurę w wyniku
bezpośredniego kolapsu
. "Bezpośredni" oznacza to,
że nie ma wybuchu supernowej, gdyż pole grawitacyjne tworzącego się obiektu jest
zbyt duże by pozwolić jakiejś materii ulecieć w przestrzeń.
Towarzysz, który był lżejszy na początku ciągu głównego, ewoluuje wolniej.
Jednak, po około 6 milionach lat, ta gwiazda również kończy fazę spalania wodoru
(ciąg główny) i rozpoczyna ekspansję. W przeciwieństwie do opisanego powyżej
transferu materii, w tym wypadku stabilny przepływ masy nie jest możliwy. Czarna
dziura nie jest w stanie pochłonąć całej dopływającej do niej masy traconej
przez towarzysza i obie gwiazdy zostają otoczone przez
wspólną otoczkę
(CE). Pomimo
tego, że ta faza jest niesamowicie krótka (trwa mniej niż 1000 lat), to znacząco
zmienia ona postać systemu. Po pierwsze, towarzysz traci swoją wodorową otoczkę
i staje się gwiazdą helową o masie większej niż 20 mas Słońca. Tak samo jak w
przypadku pierwszej gwiazdy tak i w przypadku drugiej zachodzi bezpośredni jej
kolaps do czarnej dziury. Drugim rezultatem wspólnej otoczki jest olbrzymia
utrata momentu pędu i związane z tym zacieśnianie się systemu. Odległość między
gwiazdami spada z 2000 promieni słońca do zaledwie 25! Na koniec cała wspólna
otoczka zostaje odrzucona z systemu.
Otrzymaliśmy w ten sposób układ dwóch czarnych dziur na względnie bliskiej
orbicie (10% odległości z Ziemi do Słońca!). Taka konfiguracja pozwoli na dalsze
zacieśnianie orbity na skutek emisji fal grawitacyjnych, które unoszą moment
pędu i energię orbitalną). Po 5.4 miliardach lat (prawie połowa wieku
Wszechświata), nastąpi
koalescencja
, której będzie towarzyszyła krótka ale
wybuchowa emisja fal grawitacyjnych, podobna do tej która została niedawno
zaobserwowana.
---
Grzegorz Wiktorowicz
National Astronomical Observatories,
Chinese Academy of Sciences